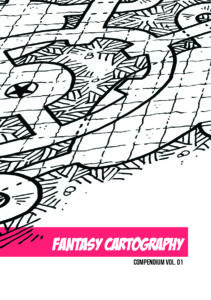 Fantasy Cartography Compendium Vol.01 is a collection of 84 Maps for role-playing games.
Except for a handful of exclusives, this book gathers most of the maps and storie published here on KosmicDungeon throughout 2016.
I draw all my freehand maps with technical pens with fine calibrated tips. Then, the drawings are scanned in high resolution to get all these fantastic plans.
All maps are accompanied by a short presentation text containing a simple plot that can serve as an adventure hook. I want to remind you that all these stories are only suggestions for your role-playing games. Do not put barriers to your imagination; take full possession of the places, and create your own fantastic stories.